Cleanliness drive by SN Global Mission Trivandrum

Sree Narayana Global Mission Trivandrum, as part of the initiative in following the teachings of the great sage Narayana Guru, dedicates on a core area of Guru's doctrine: CLEANLINESS. Sree Narayana Guru always emphasized on the Pancha Shudhis: Cleanliness of Body, Mind, Words, Senses and Home. He said cleanliness is not for show but should be part of our life style. SN Global Mission launched a cleaning drive in Trivandrum titled Shudham Nagaram on the 16th of September 2017.

Clean Environment, Clear Vision, Purity of Thought, Clarity of Mind and a Healthy Body - Shudham Nagaram means all this and more. A clean city equals healthy people.

The project was launched on 16 September 7:15 am at Shankumugham Beach by the Mayor Adv. V.K. Prasanth. During the launch, all the members took an oath to keep their house and locality clean and not to throw waste in common areas. After the launch Sree Narayana Global Mission members took part in cleaning the beach. The organization partnered with D.T.P.C. and Trivandrum Corporation for the removal of the waste which was cleaned.
Video from Kairali TV on Shudham Nagaram
SHUDHAM NAGARAM OATH
I will make cleanliness a part of my life. I shall strive to maintain a clean body, clear mind, lucid words, alert senses and a tidy home. I promise to keep myself, my home and my country neat and clean. I shall not litter my beautiful city. I shall minimize the use of plastic materials. I pledge to identify a public place in my vicinity and I shall keep it clean to the best of my ability. A clean city equals healthy people. Jai Hind!
Few pictures from the event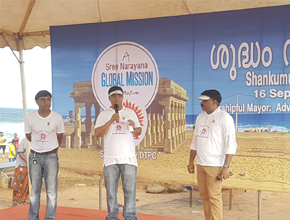 About Sree Narayana Global Mission
SN Global Mission is a Secular, Socio-Cultural, Charitable Service Oriented Organization named after the Great Adwaitacharya, Sree Narayana Gurudev. It was initiated in New York in 1982. The activities were widened in various countries under the leadership the then President of the Mission - Justice V. R. Krishna Iyer with New Delhi as the center. The mission aims to take the preaching of Narayana Guru to the masses. Dr. G. Aravindan is the present Secretary General.

The Trivandrum District unit of Sree Narayana Global Mission has launched the Shudham Nagaram Project. The project will be an ongoing one with each director board member taking up an area of responsibility.

The Facebook event page of the Shudham Nagaram has generated huge following with more than 25,000 views.